Today I am at Kir's Corner sharing one of my Proud Mommy Moments and I'm SO honored to be posting at Kir's place! She's an amazing writer and one of THE sweetest people I've encountered on the internet to date. Her heart is SO big and loving and that's why she's so good at sharing.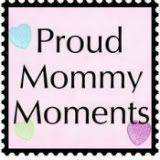 Won't you please come read about my Proud Mommy Moment? I'm betting you've had some like mine too…
p.s. It has to do with these three stinkers. Can't you tell I have SO many reasons to be proud?! 😉
Yes, that is G's finger in his nose. For a more civilized picture see yesterday's post. I kinda like this one though. Just keepin' it real.