I can be kind of sensitive at times. Perhaps it's because I grew up with three older brothers that "messed" with me on occasion. Or maybe it's just part of who I am no matter what.
I've NEVER gotten and snarky or rude comments on my blog before. EVER. And I still haven't (knock on wood or veneer, whatever is on the table next to me…).
However, on my You Capture post from last week, I got this little tid bit from "angelina"
"You have such a beautiful girl that perhaps you should put a better picture of her on your page. Just a thought!"
I wasn't quite sure how to feel about it because well, there is a sweet compliment in there but I also took it personally that she did not like the pic of Baby K in my sidebar. At least I assumed that is what she was talking about.
I couldn't respond to angelina, except perhaps in my own comments, which I never do, because she apparently does not have a blog and there was no email address linked to her name.
So, I just took it in stride and today I'm changing it – to this pic.

This one's for you angelina. I hope it's more to your satisfaction.
Come back and visit any time. : )
*If you don't remember or are a new visitor and would like to see the pic that was there before go to this post – it's the last picture.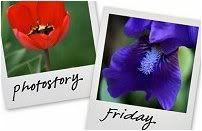 Hosted by Cecily and

Sue
* Angelina and I have since been emailing and she wanted me to know that she did not mean any offense by her comment and was nice enough to apologize for any hurt feelings. I really appreciate that she took the time to say so and there are certainly no hard feelings here. I meant what I said that she is welcome here anytime and as I told her, I just posted how I felt. Thanks Angelina.