Last night I walked into the boys' closet wondering what pajamas I could put on Little G. I spotted some "footie" jammies and looked at the size and saw 24 months. "Aw, these should work," I thought.
I was happy to put them on him because then he would not be able to reach down "there" (if you know what I mean…)
PLUS! I thought he wouldn't be able to play with his little boy nipples that way either.
Yes, my second child LOVES to play with his nipples. The left one in particular. I guess he's going to be right-handed.
Anyway, I was WRONG. On one front anyway…
He could STILL reach the beloved nips and even with the darn things zipped up all the way and snapped at the top. His addiction continues.
Do they make turtleneck jammies?
Okay so my plan didn't work but let me ask you, is there anything cuter than a little boy in footie jammies with socks over the feet and bed head and a soggy diaper and a milk sippy cup in his hand? I think not.

Little rascal…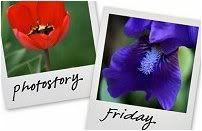 Hosted by Cecily