As I walked around the house with the supervisor for the foundation repair project, inspecting the job his crew had done, I noticed some clouds rolling in.
All of the sudden it wasn't as sweltering hot as it had been all day. Most of the work had to be done at the back of the house and while he was pointing to the new drainage system, the birdhouse the kids painted in the Spring caught my eye.
Turns out the birds have a little bit of a foundation problem too, it seems (see bottom left corner)…

I laughed a little to myself. "Glad I'm not the only one," I thought.
As I signed my life away the papers he put before me, a few large drops of rain began to fall on my head and I was thankful for even the short reprieve that a quick Summer rain shower would provide.
My parents came to help me out this week and as my mother started dinner I wondered where my little rugrats had gotten off to and here I found them…

Watching the rain fall while sitting on their grandfather's lap.
I joined them for a few moments and marveled at God's timing. Two days of hard work on the part of 5 men I didn't even know and as they drove away He christened the project and washed away some of my stress, all at the same time. Oh and gave my lawn some much needed "love."
These are the kind of reminders I need – that no matter how much is going on in our lives right now, God knows what he's doing and his timing is superb.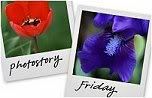 Hosted by Cecily and MamaGeek