I'm a lucky woman. I woke up yesterday morning to my husband saying "Happy Birthday" and to two beautiful little boys who hugged and kissed me. Oh and after a little prodding, the older one also wished me a happy birthday.
I had a doctor's appointment and got to hear the glorious sound of my baby's heartbeat at a rate of 167 beats per minute. That was a "Happy Birthday" in itself.
I got some time to myself to shop and enjoy lunch and the day ended with dinner with my boys and cupcakes that went down OH so easily.
And just so y'all know, I got wished "Happy Birthday" 11 different ways… through Facebook, vocally, by snail mail, by email, by a package from FedEx, with tweets, comments on here, text on my cell phone, calls on my home phone, a hand-delivered card and on chat via Gmail. That's a lot of ways. Thanks to everyone…. I really do feel lucky today. : )
A few pics from my day…
Here is what
Haley
(one of my BlogHer roomies) sent me. Isn't she sweet?? That's a box of petit fours in case you were wondering…

Me and my boys at Chili's. Yes I chose the dinner place. I'm a simple girl, what can I say?

Cupcakes to share. Yum.
The birthday "girl." hee hee.
Flowers from my hubby. Tulips are my favorite. : )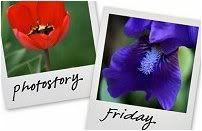 Hosted by Cecily and MamaGeek
P.S. Kinda forgot I was going to do
Past Post Parade
today. So, I will probably do it on Tuesday of next week so please check back and link up! : )