The other day The B Man helped me unpack packages of pink and purple and flowered onesies and hooded towels and sleepers and tiny socks. All the while telling me how much of a help he is going to be when "baby K" gets here. The basket was a sea of girly-ness.
Yesterday Little G helped me put them in the washer while standing on his trusty little white chair that he not only uses to assist me with laundry, but also for standing by the sink to wash his dirty, little boy hands.
Once they were dry I folded them, layed them in the basket and carried them down the hall. I opened the recently vacated drawers (where Little G's things used to be) and filled them up with his baby sister's things and there they sit, waiting to go on her tiny little self.
I traded out the pale yellow sheet for a bright pink one and hung up some of the 'fancier' outfits in the closet.
And once we find the drapery rod that seems to have grown legs and walked away (oh the joys of moving!), we will hang the valances I have for the window in her room.
Today, at my 36 week check-up my doctor said that she's hanging out pretty low but I am not dilated at all.
Only three more weeks until we meet her and I'm getting so very anxious. I'm ready to do this thing already. I know I probably sound like a broken record lately but I just AM.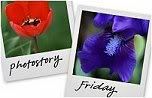 Hosted by Cecily and MamaGeek