Every child should be able to do this….

…or have the opportunity to do this…
…or even do this if they feel so inclined…
I say all this because I believe it. And my new friend Jay is doing a wonderful thing for kids who may not get the chance to do these things. PLEASE go see him and if you can support his wonderful cause I know he will be ever so grateful. He's even giving away some great stuff, including space on the top of his head. I know, it sounds strange, but it's true. I mean, would I lie to you?
I'm also linking up to Photostory Friday so we can get this message out there even more.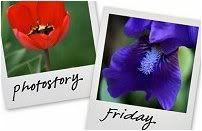 Hosted by Cecily and MamaGeek