The lovely and talented (oh and funny too!) Boo Mama is hosting the Christmas Tour of homes once again this holiday season and I am excited to be part of the fun for the second year in a row!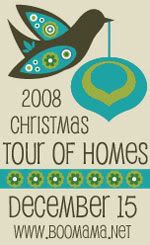 For those of you visiting for the first time, I am so glad you are here and decided to stop by! I am a SAHM with a wonderful husband and two beautiful, God-given little boys. My blog is about all the "miss-elainey" that goes on in my life! If you decide you like reading about my "Miss Elaine-ous Life" please subscribe and/or "follow" me on my sidebar over there. You can also find me on twitter as "elainea". And if you're one of my regular bloggy buddies, well welcome to the tour too my friends! : )
I know there are A LOT of people to visit so let's get going, shall we?
Is that you knocking on the door? Well come on in. It might be cold out there (this is Texas so you just never really know, it could also be 70 degrees!)
Would you like some hot cocoa?
Yes……. those are colored marshmallows which are preferred by the resident 4 year old. If you like yours without I TOTALLY understand…
Please, have a seat and admire the tree.

Pay no attention to the collection of ornaments down under the tree there… That would be the handy work of a certain 19-month old (yes, TODAY Little G is 19 months old!) that lives here. Sure, you can help me put them back but then there will just be new ones there in a few minutes, so it's okay!

Moving along… Here is one of my favorite ornaments that I have had for several years now. I believe my mother gave it to me (isn't it sad that I can't remember for sure, but I am pretty sure? Yeesh!)

And here is my favorite ornament that is new to my collection this year.
I found this one while my husband Tim and I were on a little "Mommy & Daddy only trip" to small town Texas, USA last weekend. Isn't it pretty?
The ornaments are surviving the toddler pretty well this year (I believe only one or two broken so far). However, my nativity figures have met a much worse fate.
Yes, two out of three of the wisemen have lost their heads. It's terribly tragic but please don't worry, I would like a new set anyway and baby jesus is safely tucked away.
This lovely "real" tree (ours pretty obviously isn't) was on our door step when we got back from our trip. It's a gift from Tim's Aunt Judy and I found a perfect spot for it in our breakfast area. It's so nice to have something with the real tree scent!
While we're in the kitchen I will show you another couple of trinkets that I acquired on our little trip (Fredricksburg, TX is known for it's great "gifty" shopping!) that are sitting on my window sill.
I found the darling "Believe" sign in the same shop as the bird ornament (where all things Christmas were 50% off!) and I came across the cute wooden Santa on the right at a thrift store for a whopping $2! The other Santa on the left is an old favorite and the pine cone was made by Little G at pre-school. I don't think you can tell very well but it has "snow" and glitter on it!
Speaking of Santas, I collect them. Here are a few more I've acquired over the years.
The one second from the left is very special since I bought him while on our honeymoon in Deer Valley, Utah.
I also wanted to share with you the darling quilted tree that I have in Little G's room. I found this one at the HUGE Salvation Army in Dallas a few years back for $5. As you can tell I am not above second hand shopping. Love it actually!
I just adore all the pretty fabrics that went into it and of course you know it is handmade which makes it even more wonderful in my eyes!
Oh, I know… you have to go. But here, let me leave you with the recipe for my Mom's famous cheese ball (I do know that she gave me this one!) It's SO easy to make and SO very yummy! It's a Christmas favorite at our house every year!
Pineapple Cheese Ball
1 pkg. 8 oz softened cream cheese (it's just as good with light)
3 tbsp. chopped green bell pepper
2 tbsp. chopped onion
1 small can crushed pineapple (drained)
1 tsp. season salt
1 – 1 1/2 cups of chopped pecans.
Mix first five ingredients. Shape into a ball with hands then roll in chopped pecans. Chill for at least 2 hours and up to 2 days. Serve with your favorite crackers. Really, you must try it. I can't stress this enough…
Okay, I guess that about wraps up the little tour for this year.
I hope you all have a blessed and wonderful Christmas filled with joy, family and the peace of Christ!